Dusan Benicky, born April 14, 1953, grew up in a remote part of Slovakia in a small town called Dunajec. From a young age, his father instilled the importance of sport in him with many types of various sports such as White-Water Kayaking races, Ice hockey, and soccer just to name a few. Sport became very important to Dusan and he fell in love with hockey. Dusan would train by himself for hours on end on his pure determination, will and discipline to improve his game. This type of internal motivation is something he prides himself on, as it has helped shape him into the person he is today.
In 1980, Dusan escaped from Czech Slovakia and decided to come to Canada. The big reason why he decided to come to Canada was because of freedom, but also, he was aware of Canada's hockey culture and he wanted to pursue a career path teaching the sport that he fell in love with as a child. Hockey was also a symbol of freedom and art to Dusan, with the numerous ways you can express yourself on the ice.
Hockey
Performance Centre
Through his work with Pavel Bure and high-level swimmers, the Vancouver Canucks of the National Hockey League eventually took notice and started working with Dusan on physiological profiling and conditioning for their athletes. He worked with numerous Canucks players such as Pavel Bure, and Markus Naslund. It was through his work in the hockey community and with many athletes that Dusan took over the training facilities at Canlan Ice Sports. Dusan is regarded as one of the top hockey performance coaches in the country. He has and innate ability to help athletes connect the body with the mind from a place of joy!
Scotty Bowman & Dusan Benicky "analysing the game"…
Physiological Profiling Canucks at UBC: Jiri Bubla blood lactate test Trevor Linden VO2 max test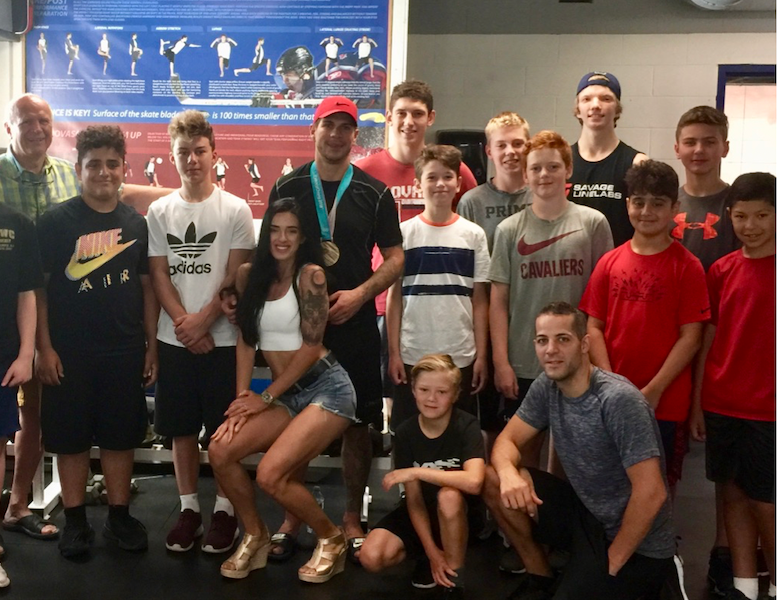 Gilbert Brule and Connor Bedard both WHL draft #1 pics!